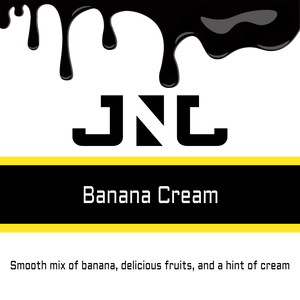 Banana Cream
Smooth mix of banana, delicious fruits, and a hint of cream.

This product contains the following:
- LorAnn Banana Cream Colourless
- TFA Dragon Fruit
- TFA Strawberry
STEEPING RECOMMENDATIONS:

I am a little torn on this one. If you prefer the fruit bang with the creamy undertone, then hit this baby straight up!
If you prefer a creamier top note with the fruit as a compliment, put this one away for 3-4 weeks. 
Please note; 2.5L Doubler and above will include lead time of up to 2 weeks, and will not be dispatched as a regular order. 
Please contact: shipping@jnjgroupbuys.com.au for more information on lead times for specific products.