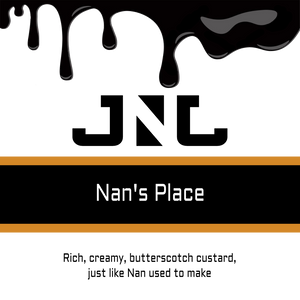 Nan's Place
Rich, creamy, butterscotch custard, just like Nan used to make.
This product is for the following:
- Capella Vanilla Custard 
- Flavor West Butterscotch Ripple
- TFA Butterscotch
- Capella Bavarian Cream
- Capella Super Sweet
STEEPING RECOMMENDATIONS: 
Straight up, this flavour is buttery with caramel nuances but if you can leave it to steep for 2-3 weeks, you'll notice some depth and richness shining through. 
Please note; 2.5L Doubler and above will include lead time of up to 2 weeks, and will not be dispatched as a regular order. 
Please contact: shipping@jnjgroupbuys.com.au for more information on lead times for specific products.