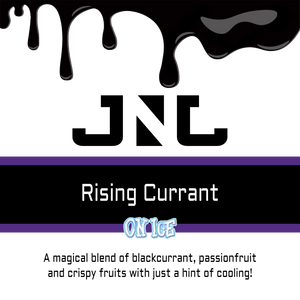 Rising Currant On Ice
A magical blend of blackcurrant, passionfruit and crispy fruits with just a hint of cooling.

Now with an added cool kick! 
This product contains the following:
- Flavour Art Blackcurrant
- Flavour Art Fuji Apple
- Flavour Art Passionfruit 
- Flavour Art Pear
- Capella Super Sweet
- Capella Sweet Lychee
- JnJ WS23 30%
 STEEPING RECOMMENDATIONS: 
I will really struggle to help you here. This is my ADV and I generally finish the bottle before it has had time to steep. 
Please note; 2.5L Doubler and above will include lead time of up to 2 weeks, and will not be dispatched as a regular order. 
Please contact: shipping@jnjgroupbuys.com.au for more information on lead times for specific products.