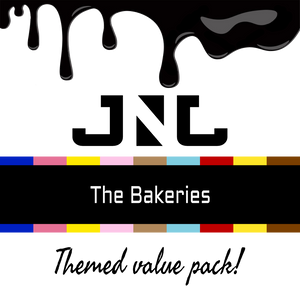 THE BAKERIES
THE BAKERIES

Donuts, tarts, cakes and more! If you want the satisfaction of a bakery trip without the calories, you're in the right place!
This value pack includes a bottle of each of the below flavours, in your choice of size:
- A Lemon Tart  - Sharp lemon curd topped with fluffy meringue, all cradled by a thin pastry crust.
- Banana Cream - Smooth mix of banana, delicious fruits, and a hint of cream.
- Brother's Donuts - Delicious, chocolate glazed donut.
- Clown Face - Starting with a decadent cotton candy ice cream that balances the sugary rush of cotton candy with the rich creaminess of ice cream and then wrapped up in the flavor of a delicious graham cracker.
- Fairy Cake - A delicious yellow cake with sprinkles baked into it, sweet white frosting and sprinkles on top.
- Fruity Pebble Donuts - Amazing, candy glazed donuts.
- Pirate Booty - Simple apple pie. 
- Red VS DIY - A delicious, blueberry glazed donut.
- Space Dude - Blueberry cheesecake.