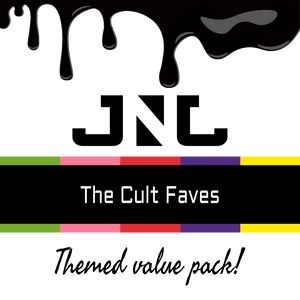 THE CULT FAVES
THE CULT FAVES

Our absolute best sellers, ever! 

This value pack includes a bottle of each of the below flavours, in your choice of size:

- A Lemon Tart - Sharp lemon curd topped with fluffy meringue, all cradled by a thin pastry crust.
- Bonobo - A mouthwatering fruit concoction that is sure to salivate any palate.
- Pink Lemonade - A cool, refreshing and fruity strawberry lemonade.
- Rising Currant - A magical blend of blackcurrant, passionfruit and crispy fruits with just a hint of cooling.
- Strawberry Jam Beast - Prominent Strawberry balanced with creamy butter and toast.
- Voldemort Custard - Arguably the best custard on the market.