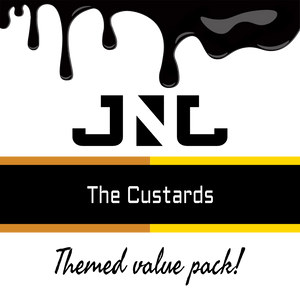 THE CUSTARDS
THE CUSTARDS
We have a quality range of sweet, rich custards - here they all are, together for the first time!

This value pack includes a bottle of each of the below flavours, in your choice of size:
- First World Custard - The custard to rule all custards.
- Grant Me Some Custard - Smooth, sweet but not too sweet, buttery vanilla custard. Just like grandma used to make.
- Nan's Place - Rich, creamy, butterscotch custard, just like Nan used to make. (She made a lot of custards!)
- Voldemort Custard - Arguably the best custard on the market.