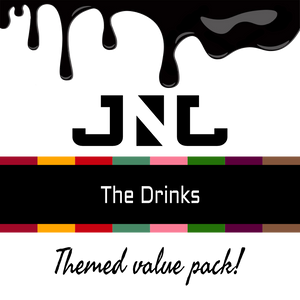 THE DRINKS
THE DRINKS

From sweet, rich chocolate milk to a refreshing fruity lemonade, it's all here!

This value pack includes a bottle of each of the below flavours, in your choice of size:

- Berry Lemonade - A dark berry fruit base with a refreshing lemonade topping.
- Bloodshot Eyes - Warm, citrus tequila.
- Cherry Cola - Cool, refreshing, cherry cola.
- Chocolate Milk - Creamy, rich, chocolate milk.
- Jungle Love - A sweet, super fruity/candy bang with just a touch of cooling.
- Pink Lemonade - A cool, refreshing and fruity strawberry lemonade.
- Requiem - Super addictive grape and cactus juice with fruity undertones.
- Rhino Milk - A smooth, creamy base with a fresh strawberry pop.