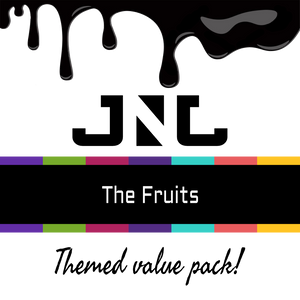 THE FRUITS
THE FRUITS

Self explanitory - all the fruity goodness!

This value pack includes a bottle of each of the below flavours, in your choice of size:

- All About That Watermelon - A cool, fruity, watermelon hit.
- Bonobo - A mouthwatering watermelon, kiwi and strawberry concoction!
- Giant Jugs - The perfect combination of fresh mango, juicy cantaloupe, and tropical papaya.
- Grape City Baby - Sweet, sparkling grape with an underlying bed of berries.
- Rising Currant - A magical blend of blackcurrant, passionfruit and crispy fruits with just a hint of cooling.
- Trizzle Bizzle - Zesty, tangy berry medley.
- Tropical Fruits - Cool, tropical fruit basket.